Take out travel health insurance online 1 February 2021 - Travel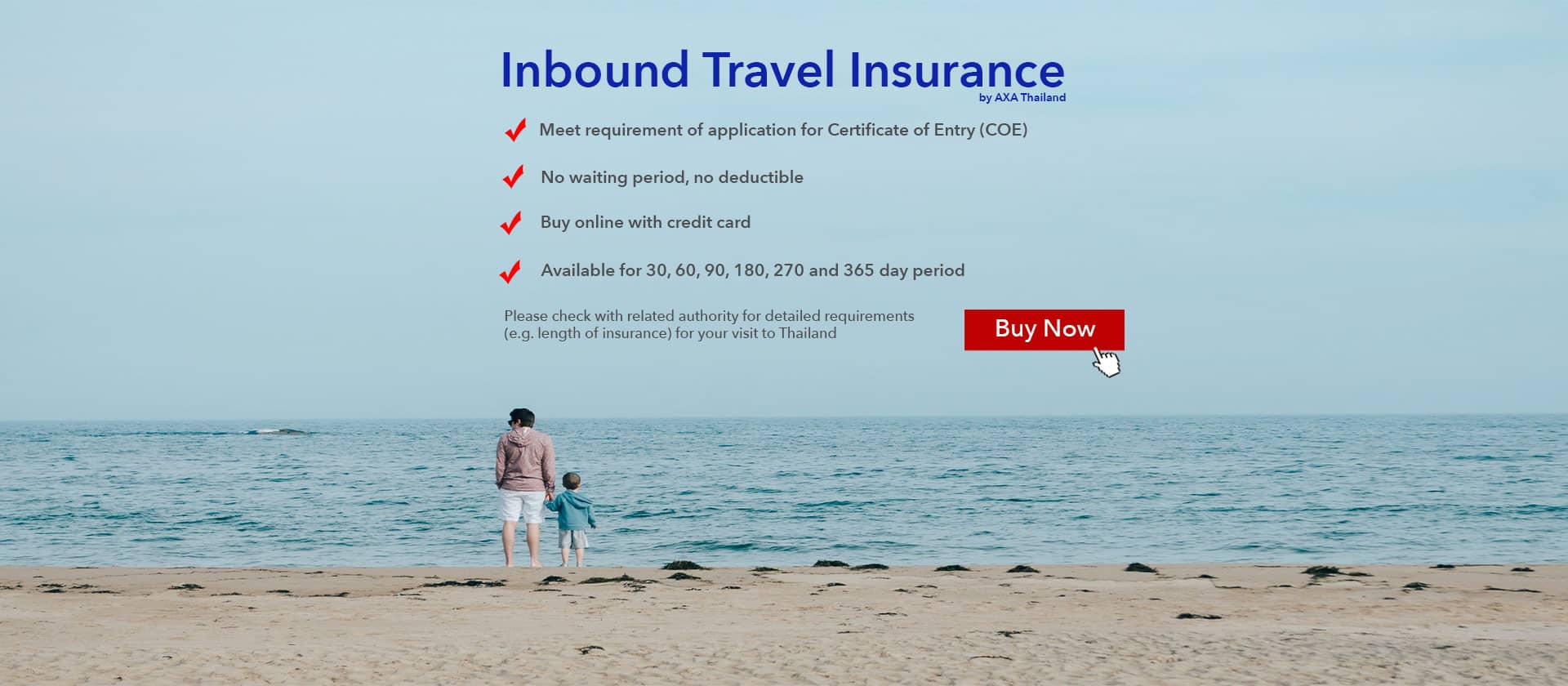 Highlights
• Meet 100,00USD health insurance requirement of application for Certificate of Entry (COE)
• Cover 3.5 million THB of medical expense including COVID19 and 1 million THB of Personal Accident, choice of period of 30, 60, 90, 180, 270, and up to 365 days
• Coverage starts immediately after clearing immigration in Thailand and include the period of 14-day Alternative State Quarantine (ASQ) and Alternative Local State Quarantine (ALSQ)
• No waiting period , no deductible, no advance payment for hospitalization
• Provide insurance certificate including COVID-19 coverage statement
• Large hospital network throughout Thailand and 24-hour hotline service.

Table of Benefit
Policy Wording
Application Form
Example of AXA's Covid-19 Certificate

AXA's Sawasdee Thailand provides foreigners traveling to Thailand with health and personal accident insurance coverages including Covid-19 that meet official requirements for Certificate of Entry (COE). AXA has large hospital network throughout Thailand with direct billing option for hospitalization and 24-hour hotline service. Policy is effective with no waiting period, including ASQ and LSQ stay quarantine. Length of insurance can be chosen for 30, 60, 90, 180, 270, or 365 days.
Caught Covid but do not show symptoms? Don't worry! Yes, AXA will cover for the medical expense incurred based on medical necessity. See more in FAQ.
Premium including Stamp Duty:
| Coverage | Limit (Thai Baht) |
| --- | --- |
| Loss of life, Dismemberment, Loss of sight or Total Permanent Disability due to Accident(Including 100% Murder Assault and 100% Motorcycle) | 1,000,000 |
| Medical expenses due to accident and illness (including COVID19) | 3,500,000 |
| Third Party Liability | 650,000 |
| | |
• Non- Thai nationals excluding those of sanctioned countries and those relate to our AML/sanction regulations and requirements
• Age: 1- 74 year upon the policy start date
• Foreigner who are not physically in Thailand
Remark:
- Sawasdee Thailand is the marketing name for Inbound Travel Accident Insurance.
Zone

Country

Low Risk

Africa
Rwanda, Democratic Republic of cote d'ivoire (Ivory State)
Asia
Bahrain, Kazakhstan, Macao, Mongolia, South Korea, Singapore, Taiwan, Vietnam, Hong Kong, China, Quatar
Australia / Oceania
Australia, New Zealand, Fiji
Europe
Norway, Finland, Estonia
North America
El Salvador
South Africa
Uruguay

Medium Risk

Africa
Algeria, Angola, Benin, Botswana, British Indian Ocean Territory, Burkina Faso, Burundi, Cameroon, Cape Verde, Central African Republic, Chad, Comoros, Republic of the Congo, Democratic Republic of the Congo, Djibouti, Egypt, Equatorial Guniea, Eritrea, Ethiopia, Gabon, Gambia, Ghana, Guinea, Guinea-Bissau, Kenya, Lesotho, Liberia, Libya, Madagascar, Malawi, Mali, Mauritiana, Mauritius, Mayotte, Mozambique, Namibia, Niger, Nigeria, Reunion, Sao Tome & Principe, Senegal, Sechelles, Sierra, Leone, Somalia, South Sudan, Sudan, Swaziland (Eswatini), Tanzania, Togo, Tunisia, Uganda, Western Sahara, Zambia, Zimbabwe
Asia
Afghanistan, Amernia, Azerbaijan, Bhutan, Brunei, Cambodia, Cocos / Keeling Island, Cyprus, Georgia, Iraq, Japan, Jordan, Kuwait, Kyrgyzstan, Laos, Lebanon, Malaysia, Maldive, Oman, Pakistan, Saudi Arabia, Sri-Lanka, State of Palestine, Tajikistan, Timor-Leste, Turkey, Turkmenistan, United Arab Emirates, Uzbekistan, Yemen
Australia / Oceania
American Samoa, Christmas Island, Cook Island, French, Polynesia, Guam, Kribati, Marshall Island, Micronesia, Nauru, New Caledonia, Niue, Norfolk Island, Northern Mariana Island, Palau, Papua New Guinea, Pitcairn, Island, Samoa, Solomon Island, Tokelau, Tonga, Tuvalu, United States Minor Outlying Island, Vanuatu, Wallis & Futuna
Europe
Aland Island, Albania, Andorra, Austria, Belarus, Bosnia and Herzegovina, Bulgaria, Croatia, Denmark, Faroe Island, Gibraltar, Greece, Guernsey, Hungary, Iceland, Ireland, Isle of Men, Svalbard & Jan Mayen, Jersey, Latvia, Liechtenstein, Lithuania, Luxembourg, Macedonia, Malta, Moldova, Monaco, Montenegro, Portugal, San Marino, Serbia, Slovakia, Slovenia, Sweden, Switzerland
North America
Anguila, Antigua & Barbuda, Aruba, Bahamas, Barbados, Belize, Bermuda, Canada, Cayman Island, Curacao, Dominica, Dominican Republic, Greenland, Grenada, Guadeloupe, Guatemala, Haiti, Honduras, Jamaica, Martinique, Montserrat, Nicaragua, Panama, Puerto Rico, Saint Lucia, Saint Pierre and Miquelon, Saint Kitts & Nevis, Sain Maarten, Turks & Caicos Island, British Virgin Islands, United States Virgin Island
South America
Bolivia, Bouvet Island, Chile, Falkland Island, French Guiana, Guyana, Paraguay, Saint Helena, Ascension Island, Tristan Da Cunha, South Georgia and the South Sandwich Islands, Suriname, Trinidad & Tobago

High Risk

Africa
Morocco, South Africa
Asia
Bangladesh, India, Indonesia, Israel, Myanmar, Nepal, Philippines
Australia / Oceania
-
Europe
Belgium, Czech Republic, France, Germany, Poland, Italy, Netherlands, Romania, Spain, United Kingdom of Great Britain and Northern Ireland
North America
Costa Rica, Mexico, United States of America
South America
Argentina, Brazil, Colombia, Ecuador, Peru
- Full premium refund if the Royal Thai Embassy/Royal Thai Consulates does not accept AXA Sawasdee Thailand insurance. Customer must provide to AXA a proof of the Embassy's requirements which indicates that AXA Sawasdee Thailand is not acceptable.
- Cancellation request must be made to AXA before the start date of the policy.
GLOBAL Insurance Broker
Take advantage of our vast experience and our individual competent advice. We got the right insurance partner for all risks of your every-day life.
Enjoy your life in Thailand in safety. We offer the best insurances and help you to select from a range of tariff options the most appropriate one for you.
Call Us +66 (0)82 469 5551